Woot - only 7-10 more weeks till Baby Worry Bud gets here!!! I can't believe today is the first day in September! I feel like time is just flying this summer & thank goodness...we have had an extremely HOT summer this year. Of course, the year I'm pregnant over the summer, we get one of the hottest summers on record! Not that I'm complaining - it's just definitely uncomfortable at times! I have tried to reign in my baby buying obsession seeing that we still have
four
baby showers being thrown in our honor - the one Mr. Worry Bud's family is hosting in his hometown, my main shower in our area/my hometown, plus a work shower at each of our jobs that some co-worker friends are planning to host - we are so blessed! The shower at Mr. WB's office was a big surprise to me, but it's so sweet of them! I can't wait to see all the cute stuff she gets!! I found an awesome maternity dress on sale & decided to get it for my main/big shower, so I ordered it last week:
According to the Bump, during weeks 29-30 (month 7), the baby is about the size of a
squash
, or about 15.2 to 16.7 inches and about 2.5 to 3.8 lbs. Although she's already pretty big & cramped in there, her weight will triple by the time her due date rolls around. And she is gaining additional energy due to white fat depositing beneath her skin. And Baby WB is definitely getting a workout in there - exercising by stretching & kicking - it's even beginning to hurt a little now, but nothing her mama can't handle! I had my 30 week doctor's appointment this past Friday & I met with Dr. P this week. I really like her a lot! She gave me the pre-registration information for the hospital I'm going to be delivering at & she said that I could just turn it in during my hospital tour, which is scheduled for September 9th! She also checked the size of my belly, which is measuring right on track & she checked for the baby's heartbeat, which was a very normal 135-140 bpm. When the Dr. was trying to find the baby's heartbeat, she couldn't at first because the baby was wiggling around so much - she even kicked a few times for the Dr. to see! She is not a shy baby - she kicked/moved for two of my co-worker girlfriends & for my mom last week, haha! At the end of the appointment, I scheduled my next several appointments with my OB's office & it hit me just how close we are to meeting her - we ended up scheduling appointments through the end of my pregnancy! We even scheduled one for the week after my due date just in case. :o/ Hopefully we won't need that one, but we'll see.
I still have been doing pretty good overall, although I can tell that I'm slowing down. My lower back & feet hurt by the end of every day & I get so short of breath doing even the smallest tasks. I have also been getting pretty bad heartburn at the end of the day & I am literally exhausted by the time I get home from work. The problem is - this is the busiest time of year at my job thru the end of September & then I have about one more month until I go out on maternity leave, so I'm sure I'll be busy up until the end. My job is mainly a desk job though, so I'm fine still working, it's just exhausting! Right now I take public transportation to work, but I think sometime this month I'm going to start driving in - I'm sure navigating my area's horrible traffic will suck, but it'll be good for me to have easy access to my car. And I hear that once I start driving in, that I won't wanna go back! We shall see. :o)
To celebrate the 30 week milestone, I thought we'd go for a 3D/4D ultrasound this past weekend, but Baby WB was NOT having it at all! She had her arm up in front of her face the
entire
time. Urg. She moved for like 2 seconds & we got to see her yawn!! It was seriously SOOOOO adorable. I wish we could have seen more of her cute face, but she was being camera shy, so the 3D place let us re-schedule to try once more & we went in last night & she actually cooperated!! The pics are not the best quality because she is very close to my uterine wall & the lady said you need a good amount of fluid between the wall & baby's face to get really GREAT pics. But these were good enough for me & Mr. WB b/c we got to see our little miracle's cute face: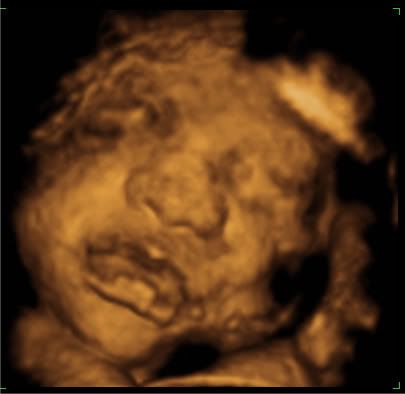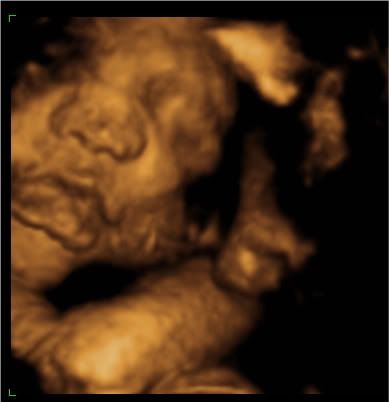 I think she has her daddy's nose & a my cheeks! Not sure about those lips, but I suspect they may be my dad's!
And now on to my 29 & 30 week bump shots. I still think I'm pretty small in comparison to some other pregnant women I have seen who are as far along as me (maybe it's all in my head?! My mom thinks it is b/c she says I'm "big".), but as long as the Dr. isn't concerned & the little one is doing good, that's all that matters!
29 weeks: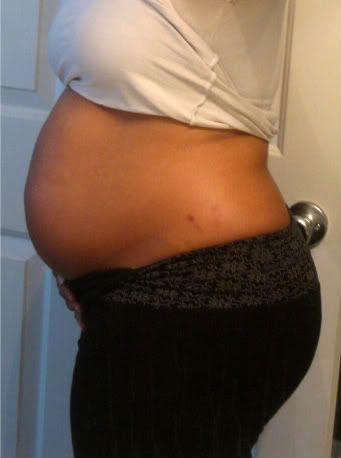 30 weeks:
I can't believe we only have about 2 more months till she arrives...I know time will continue to fly! I'm keeping busy getting my ridiculously long Baby WB to do list done & finishing up the nursery - it's almost done!! Can't wait to meet our little girl!