Again, I can't believe how quickly time is flying! I'm close to two weeks into my third & final trimester of this pregnancy! Sometimes I sit & think about just how soon our precious little girl will be here & I both freak out & get giddy with excitement all at the same time! I know I'm technically already a mommy, but it won't seem for real
for real
till she's actually in our arms...does that make sense? I'm loving being pregnant with our little one though & getting to know her personality. She's all
mine
for now, but I know that's gonna change the minute she comes out - she already has sooo many people that love her & are so excited to meet her!! This past weekend I got a lot of miscellaneous nursery stuff done. I have gone thru all the clothes & blankets friends have given to us & plan to wash them at some point soon. Her crib skirt just arrived yesterday, so all I have to do is iron it & put it on the crib & her bedding set will be complete!! I ordered the hardware to hang her curtains, but it won't be here until early OCTOBER! So, if I find something else in the mean time, then I'll buy that!
True to form, my baby buying obsession is still in full effect - although, it has calmed down considerably. In the past couple of weeks, I have only bought her just a few things - most of it is nursery related, so that doesn't count. ;op But one thing I have been wanting
badly
is a cute little cable knit white hoodie & I found one this week on
JCP.com
for $12.99! I got it in "polar bear" & 3-6 months, since I already have another cute sweater in 0-3 months. Here it is:
And one reason I triple heart JCP is because they ship SO fast! I already received it & it hasn't even been a week since I ordered! Oh, a cyber friend gave me an online code for 20% off your entire order from
Baby Legs
(email me for the code at
worrybud@gmail.com
), so since I have been drooling over baby legs since I first saw them, I decided to head over & check out their selection. BAD idea because I bought 4 pairs (I can only show you a couple b/c the BL site won't work at my job for some odd reason):
I heart them all! I got two in the "lil" size, which is supposed to fit newborns better & 2 in the one size fits all...I'm sure I'll soon get more. :) I'm also on the look out for some faux Uggs for her for cheap, so if you know of a good place to find them, then please let me know!
So, now on to the pregnancy updates! I'm doing well still - enjoying the third trimester overall, but I have been getting more uncomfortable & TIRED as the days pass. I was just telling Mr. Worry Bud that we better get some of our pre-Baby WB to do's done soon because I am feeling my energy quickly drain away. I found out a couple days after taking the test - I passed the glucose tolerance screening, woot! But my iron levels are low, so I have been put on iron supplements...which I keep forgetting to take. :o/ The problem is, I'm supposed to take them opposite of when I take my PNVs, which is a problem since I take them in the evening right before bed. I'm usually in a rush in the morning & completely forget to take the iron pills after my first meal. I have set an alarm on my phone & keep some of the pills in my work bag, so I'm hoping that'll help me to remember now. Everything else was normal though, so I am relieved to have that testing over with.

The weeks seem to just be flying by! I can't believe it's almost September, then really only 2 more full months till the babe arrives! We attended a breastfeeding class last week & I learned a lot & got some good literature to read up on. I have a friend who recently had a little guy & he took to the boob like a champ, so I'm hoping little Baby WB does the same - with minimal hurdles. I have a pretty high pain tolerance threshold, so I'm not so worried about it being painful as I am of the potential complications that can happen to me or to the baby while BF'ing. I'm gonna give it my best try though & if all goes well, I hope to continue as long as possible. I had my last every 4 weeks OB appointment last past Friday (everything looked good - only up 3 lbs since my 24 week appointment & her h/b was 155 bpm) & now am moving to every two weeks...looking forward to hearing her heartbeat every 2 weeks, woo hoo!I also plan to schedule a 3D ultrasound for next week at 30 weeks, so hopefully she'll cooperate & I'll have some good pics to share next time!!
According to
The Bump
, the baby is the size of an eggplant. Her lungs are maturing & she's putting on more weight now. She's also practicing blinking her eyes, which we will hopefully get to see at the 3D ultrasound! She's about 2 lbs. now & about 14.8 inches, so she's getting pretty big!! And pretty cramped in there I think - she is kicking away more & more every day...and I, of course, love it! So does Mr. WB - he gets to feel her at least once every day now! He thinks it feels like I'm hiccuping, but I told him that's definitely his little one! Some days she just gets into these moods where she just kicks non-stop. And he's just such an awesome daddy already - every night he tucks me & makes sure I'm comfy in my pillow fortress, then he kisses my belly & tells Baby WB how much he loves her! ::dies:: It's so freakin' cute...and I can't WAIT to see him hold his daughter for the first time, I think he'll just melt.
And to end this ridiculously long posts, here are my 27-28 week bump photos - I think I may have possibly finally "popped"?! IDK, but I apparently look pregnant since people give up their seats on the train (I use public transit to get to work) & random people ask when I'm due if we happen to strike up a conversation. Regardless, Dr. W says I'm measuring perfectly so I suppose that's good enough for me! Oh & still no new belly stretch marks, although I noticed the ones I had on my hips from beforeI got pregnant have gotten a little darker (you can see them a little on to the right of my tummy in my bump pics). Weird right?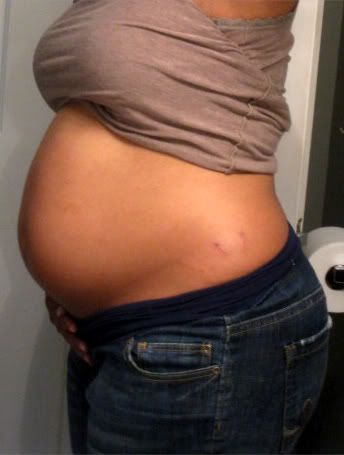 I only have 2 pairs of work pants that fit me & 1 pair of jeans - I am currently in search of some lighter colored maternity full panel jeans, so if you know where I can find some, please please let me know! The lady at Motherhood Maternity said that the lighter ones are being phased out b/c the summer is almost over - is it weird that I still wear them in the fall/winter?! Hahaha. Maybe I'll just buy an even darker pair than the ones I have now & then they won't seem so dark to me?!