Happy Valentine's Day!

Not much new to report over here ... still just waiting and hoping.

Things have gotten better with Mr. Nerdy Bud. He's trying to be more attentive, and we've BD'ed more this month than ever before ::blush::

He even bought me a KitchenAid Artisan stand mixer as an I'm-sorry-I've-been-a-pig-headed-jerk-lately present! :) I've wanted one for quite a while, so it was a welcome surprise!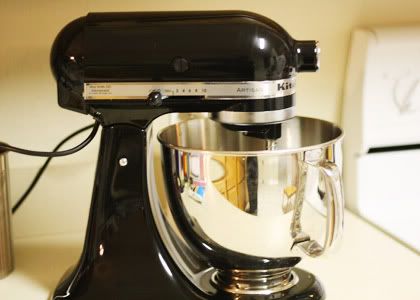 Isn't she lovely?

I'm not really much of a cook, but I've been trying new recipes and polishing up on my skills lately. Especially since I found The Pioneer Woman's site. She has a lot of good recipes and tips for those of us who are a little less experienced. :)

In fact, it's almost like I've replaced one obsession for another. Instead of reading all about baby names and nursery decorating tips, etc., now I'm searching the blogosphere for fun recipes to try. This weekend, I made Sugar Cookie Pops and Chocolate Covered Marshmallow Cookies. Yum! Trying not to gain 50 pounds though...

Do you guys have any fun recipes you'd like to share?

Hope everyone has a wonderful Valentine's Day, full of love and baby dust!