First off, here is a quick update:

Week 18
Pretty uneventful, except telling everyone, "It's a Boy!" and "No, we will not be telling his name until he is born."

Week 19
I felt him MOVE! The only way I can describe it is a fish in my stomach.... you know how a fish flops when taken out of water, that is what my son feels like. Nice image huh?


As long as the weather doesn't reschedule a work event Saturday, I will be going to a Bachelorette Weekend in Nashville, TN the first weekend in February. I have really been looking forward to it, so I hope I'll still be able to go.

Now for the question of the week, what to wear? I am still able to comfortably wear my normal size 10 clothes, even with my nice, cute, new little baby bump. ALTHOUGH, if I wear a belt, my pants feel uncomfortable when I sit down and if I don't wear a belt, my pants fall down when standing up and a wind up stepping all over the bottom of my pants, POO!
I want to dress comfortable and cute next weekend with the thought that I may have grown by then, so I'm THINKING of running this weekend to purchase a couple pair of maternity type pants... What do you think? I'm thinking a pair of black dress pants and a pair of nice denium trousers. But THEN, I have to figure out what to wear for the tops! Most of my clothes are still packed up until we find our house, so that means, I may have to purchase tops too!

Here are a few things I've found online, tell me what you think...
Friday Night Dinner Out (and I'm sure that they will do some partying too)
(Imagine this top in teal, with a jeweled neckline)
Image from AnnTaylor.com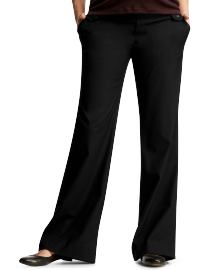 Saturday Daytime Shopping
Images From OldNavy.com
As you see, I'm really stumped... ANY SUGGESTIONS???

Faith, Love, and BABY FLUTTERS! (finally)
Mrs. BrainyBud