...I interrupt this regularly scheduled blogging to bring some
GREAT
news - this past weekend, I started feeling something I had heard described, but never knew if I'd actually know it if I felt it. The sensation of popcorn popping down low in my pelvic area. I am pretty positive that it is Baby Worry Bud moving around in there & I am soooo excited! Love her. It's still nothing I feel regularly, but it does happen a few times a day - it actually just happened a second ago. :) Keep moving away in there Baby WB!!
The past few weeks I have been working on trying to get a few things on my "Getting Ready for Baby Worry Bud" list done & it's a doozie! One of the more immediate things on my list was to really sit down & take a look at my job's maternity leave policy, then sit down with an HR representative to discuss my plan/options. I had that meeting on Monday, then spoke briefly with my first level supervisor (he's actually not really, he is just a team leader...it's complicated, lol), but the overall news is that everything with my leave looks like it'll work out how I'd hoped! God-willing, if this pregnancy continues to go smoothly & with relatively no complications that require me to cease working, then I plan to work up until my EDD. I can work past that if Baby WB does not make an appearance before then - I'm actually halfway expecting her to be a little late - seems to happen with first time moms more often than not (barring any complications). Working up until/around my EDD will bring me to the beginning of November & I plan to take off 12 weeks for maternity leave. That means (much to my excitement), I'll be out on leave over all the major fall/winter holidays, including Thanksgiving, Christmas & New Years - yay! I have enough sick & annual leave to cover 11 weeks of paid time, so the final week I'll either take leave without pay (spaced out over several pay periods/weeks) or do five telework days during the last few weeks of my maternity leave, so that I can stay out of the office through the last full week in January. Also, since we are coming up on the busiest time of year in my industry, I may end up working some additional hours & getting some comp time this summer. And with the way my work load looks these days, it won't be a problem to accrue 40+ hours of comp time in the next 3 or so months. Hopefully things will calm down soon though, sigh.
This week, Baby WB is the size of a
sweet potato
(
Photo Credit
)
! She's getting so big! The Bump confirms she's spending her time moving away in there - kicking, punching, rolling, hiccuping, twisting, etc. So cute. I wish I could have a look at her every day. :oP I am feeling pretty good still - just random aches & pains here & there (growing pains I think), heartburn, sore boobs, getting sleepy early. In other news, my side of the bed is turning into a pillow fortress. Poor Mr. WB can't even spoon me, which I know he
LOVES
to do! ;oP But even if he tried, it's physically impossible b/c I have pillow behind me (for back support), in front of me (belly support), two between my legs (hip/back support) & one under my head, hahaa. I REFUSE to buy one of those
maternity pillow thingys
b/c what in the heck will I do with it after the baby is born? And I
despise
clutter...so regular pillows it is for me!
I think people who don't really know if I'm pregnant (mostly at work) or not, are really starting to notice this week. A few people have asked me that oh so uncomfortable question - are you pregnant or uhhhh...? I feel like that's a
DANGEROUS
question to ask a woman, you know? So I never ask people, I just wait patiently for the "popping" of the bump (or for the person to talk about the baby), LOL. I think maybe the "popping" has started happening with me! Here is this week's bump pic @ 18 weeks exactly: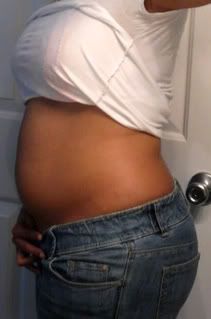 I'm in maternity pants/jeans full time (minus my yoga pants), my maternity shirts are still kinda big, but then my regular ones are getting a little short too! I am wearing my very first maternity dress this weekend to one of my good friend's wedding! The dress is so pretty & I'm excited for her wedding - I know she will be a breathtaking bride!! Then, next week we get our official anatomy scan, after which, I plan on ordering Baby WB's bedding & we are going to register for Baby WB's shower!! Can't wait to see my little girl again! Until next time!