At updating each week. So here are some photos so you can see the progression of my belly from
15 Weeks
16 Weeks
17 Weeks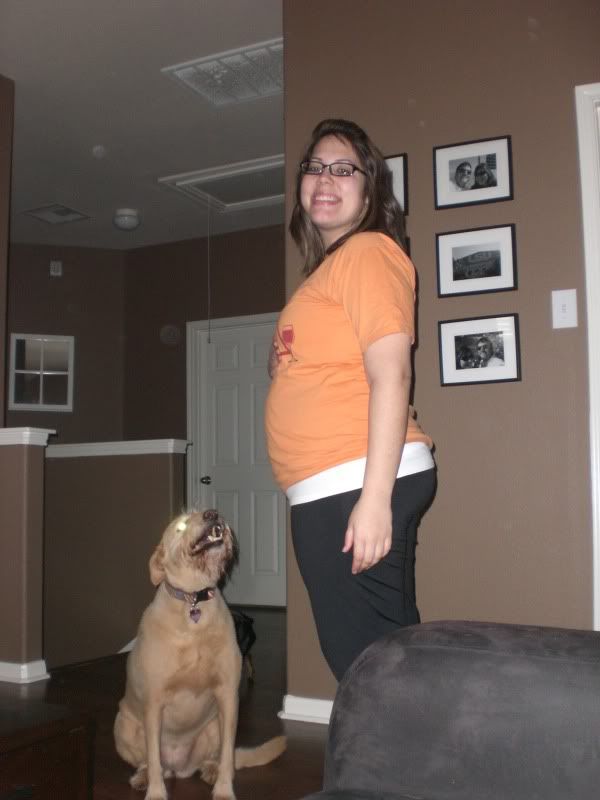 18 Weeks
18.5 Weeks
Look at my belly grow! So exciting. I can't believe to this day I have a baby growing in there. Its simply amazing. I ask him/her everyday to give me a sign what him/her is. Yeah I get nothing.
Things have finally been easing up. I haven't thrown up in about 4 days. Yay! That's so awesome. Saturday night I threw up some french fries. I think my baby really enjoys eating healthy food. I have been having this vegetable kick. I love corn on the cob and green beans. Really I could eat them every day. And I guess thats a good thing right?
I also know love bananas. Yum! Most fruit I love. I still can't eat chicken. YUCK! But do love breakfast sausage and pork. I have never wanted more breakfast sausage in my life. This poor kid is going to come out wanting a McDonald's Sasuage McMuffin. At least they are only a dollar? But geez the fat is ridiculous. You have to eat what your cravings want right?
I do also love a Pepsi every now and then. I can't believe this. Its not like I didn't like Pepsi before but I can't tell you the last time I drank a real Pepsi before I got pregnant. It had to be years ago.
Sno cones are also on the top of my favorite things. So yummy and so nice and cold and refreshing. I haven't really had any in the middle of the night cravings. I do every now and then have a want for something like candy at night but I just go to bed instead of telling Mr. OB to go to the store to get me some. I can usually fight it with water.
Sleep is beginning to be interesting. I tend to wake up every time I turn to the side. I don't know if its me making sure I don't roll over on my stomach or what.
We did a 5K this weekend. Yep this little old pregnant woman ran/walked a 5K. Who says a pregnant woman can't run? Seriously I loved it. I think my little baby did also. After working out he/she is always moving.
Oh I forgot to tell you about the flutters. I guess about at 16 weeks I felt the first one. It felt like the little one was tickling me on the inside. Its a very interesting feeling that makes me smile every time I feel it. I can't wait until I get to feel the first kick or punch.
On the nursery front we have been busy. We bought this set yesterday:
We bought the crib, the hutch and the 6 drawer dresser. We are also going to get a night stand, a glider (Any ideas on a good one) and some bookshelves.
Looks like one of the big purchases (of the many) are done. We still need to get the stroller, carseat, glider, and a video monitor. So much fun stuff to do!
My next update should be telling you whether its a boy or a girl. What do you think? Leave me a comment! I can't wait to find out